Eyepopper Fishing Charters

  Captain and Crew Info

First Mate Rob when off duty with the USCG

Eyepopper's Capt. and Crew have a combined 100+ years of fishing in Lake Erie.  The Capt. and First Mates all participate in the U. S. Department of Transportation Random Drug Testing Program as well as have all current insurance coverage's, Coast Guard Licenses, Power Squadron and Boater Safety Courses required.

Capt. Denny has been fishing Lake Erie since he was a young boy from Ashtabula to the Western Islands.  From tournament fishing to charter fishing or fishing for fun Capt. Denny has boated virtually all species of fish found in Lake Erie and Lake Ontario.  Trophy walleye, steelhead, chinook salmon, coho salmon, smallmouth bass, yellow perch and brown trout have all found their way into his landing net.  Capt. Denny is finally going to begin to play hooky and retired from teaching school on June 11, 2009.  Wonder what he is doing now?  Well he got bored missed the kids and is now the High School Band Director at Lutheran West High School in Rocky River.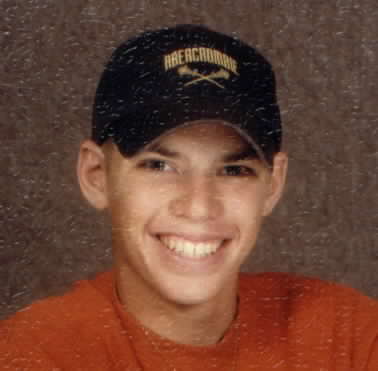 Rob is currently a radiology tech at St. Vincent Hospital in Cleveland, heart cath lab and a full time DAD.   We are still looking for a current picture.

First Mate Rob has been fishing Lake Erie and Lake Ontario for the last 30 years.  He fished his first walleye tournament at the age of 6 and has been operating a motor boat under the watchful eye of the Capt. since the age of 5.  Rob is currently in the Coast Guard (nearly 16 years) currently on reserve duty in Cleveland, Ohio.  He was a fulltime student at Lorain County Community College hoping to become an elementary school teacher until he was called to active duty in March of 2003.  He changed course and now has his radiology credentials.  He extended his active duty assignment through Oct. of 2009 and then became a reservist to date.  Rob has also found his "First Mate", "Landlubber Megan" who is taking a big part of his fishing time. They were married Feb. 12, 2005.

Occasionally Eyepopper Charters will employ first mates from other charter operations.  This is usually done when First Mates Rob and Admiral Pam are not able to make a trip.  Typically we will use a first mate from another fine charter operation or we will even employ the services of another Captain if Capt. Denny is not available.

Yes, this picture was taken before he was married.  Wonder what he looks like now?

Admiral Pam has joined the working crew of "Eyepopper Charters" and often handling the boat driving responsibilities while trolling.  She has fished with Capt. Denny for the last 41 years.  Her boat driving allows Capt. Denny to concentrate his time on the charter customers and fishing sets during your trip.